24 Hour Comics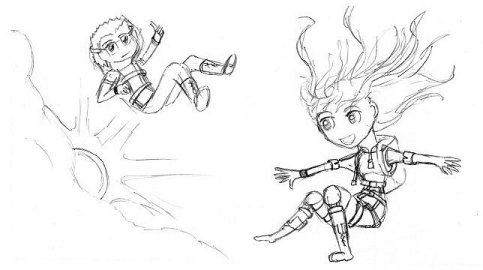 This page houses various 24 Hour Comics from myself, and friends.
The Dare
To create a complete 24 page comic book in 24 continuous hours.
That means everything: Story, finished art, lettering, color (if applicable), paste-up, everything. Once pen hits paper, the clock starts ticking. 24 hours later, the pen lifts off the paper, never to descend again. Even proofreading has to occur in the 24 hour period. (Computer-generated comics are fine of course, same principles apply).
No sketches, designs, plot summaries or any other kind of direct preparation can precede the 24 hour period. Indirect preparation such as assembling tools, reference materials, food, music etc. is fine.
Your pages can be any size, any material. Carve them in stone, print them with rubber stamps, draw them on your kitchen walls with a magic marker. Whatever you makes you happy.
The 24 hours are continuous. You can take a nap, but the clock keeps ticking. If you get to 24 hours and you're not done, either end it there ("the Gaiman Variation") or keep going until you're done ("the Eastman Variation"). I consider both of these "Noble Failure" Variants and true 24 hour comics in spirit; but you must sincerely intend to do the 24 pages in 24 hours at the outset.
-- Text by Scott McCloud, creator of this challenge.
---
24HCD 2012
24 Hour Comic Day sat over a larp event this year, so instead we did it on 22-23 September. The challenge was completed by myself, Tom and Laura again, with androidkiller and duckbunny visiting for shorter comicing sessions
---
August 2012
August Bank Holiday in 2012 provided me with a weekend where I was at a loose end, bored. I had an idea for a little story I wanted to tell, so I made a 24 hour comic. The original pencils were finished in 17 hours and 6 minutes, and there is a current intention to ink and colour the comic, then present the whole thing on the infinite canvas.
Square - a 24H Comic by David Birch in 17.1 hours. The zip file contains all the images, if you want to download the whole thing in one go.
View the whole thing as one colour panel - although I only added the colour after the time limit. (Warning! this is a big image!)
---
24HCD 2011
24 Hour Comic Day is a international event, where artists all over the world take part in a stupid dare: to try and make a 24 page comic in 24 hours. The dare is open for any day of the year, but on one day each year, lots of people give it a go. In 2011, 24HCD was the 1st October, and I took the challenge alongside Tom Garnett and Laura Tinning in their house. I finished my comic in 22 hours and 53 minutes, the slowest of the three of us.
---
Back to Socks and Puppets